Latest News
Physician Assistant student offers glimpse of program via social media
University of Detroit Mercy Physician Assistant student Jamie Murawski loves to help people, it's why she's in school to be a Physician Assistant (PA). She also loves to help potential PA students.
Through social media and blogging, Murawski chronicles her ups, downs and everything in between during her journey through PA school. Prospective PA students can follow Murawski's progress and ask questions along the way.
"I really just like answering questions," Murawski said. "I know that sounds boring to some people, but I like educating people about the field because a lot of people don't even know what a PA is. I like to teach about that. Then there's a lot of people who are striving to go to PA school, but they have no idea how to get there, and I was in that position so I want to be someone who helps as many people like that as I can."
Murawski's Instagram account, @jamienicole_pa.s, offers insight into PA school through posts, daily stories and Instagram live posts where people can interact with her.
Featured videos
Detroit Mercy Dental Class of 2017 President Horacio Falcón soars high with his degree, despite life challenges. "Detroit Mercy gave me a chance to fulfill my dreams, and I'm very thankful. Therefore, I'll be staying in Michigan and the Detroit area. I can't wait to be part of the alumni group and give back to help others fulfill their dreams the way Detroit Mercy helped me."
John Staudenmaier, S.J., delivered a powerful talk at a gathering of the Jesuit Alumni & Friends of Detroit, discussing ways to "pray from where you are" – in the here and now.
Detroit Mercy in the News
Alumni News
Clare Boothe Luce grant helps build new future for women in engineering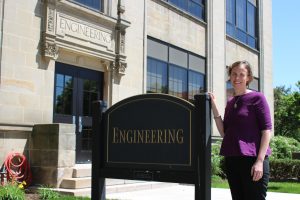 University of Detroit Mercy's College of Engineering & Science is now home to the only current Clare Boothe Luce Professor in Michigan.  Funded by a five-year, $476,000 grant from Henry Luce Foundation's Clare Boothe Luce Program, Megan O. Conrad, Ph.D., will serve as a role model and mentor for women …
GM Student Corps, 5 years of changing lives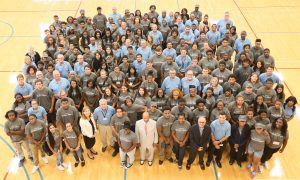 The GM Student Corps celebrates its fifth and largest year, helping young people in underserved school districts transform their communities and jump start their futures. Students spent Thursday, July 20, at University of Detroit Mercy's McNichols Campus working with faculty and learning important life skills as they prepare for college. Pershing High …