Latest News
Featured News
May 14, 2018
University of Detroit Mercy held commencement ceremonies on May 11 and 12, 2018, and welcomed more than 1,500 students to the University's alumni ranks. Congratulations to all graduates for achieving your academic goals!
Read more
May 09, 2018
Christen Kemp wasn't quite sure what she was looking for in a college when she visited University of Detroit Mercy as a senior in high school. Still, her father elected to put down a deposit, encouraging her to study nursing. But as she nears graduation, where she will speak as the Class of 2018's valedictorian on May 12, she knows Detroit Mercy was everything she could have ever wanted in a university and offered her opportunities she wouldn't have had anywhere else.
Read more
News
May 04, 2018
May 04, 2018
May 01, 2018
April 24, 2018
April 05, 2018
See More News
Featured videos
Celebrate Spirit!
Detroit Mercy in the News
College students invent devices to help disabled vets
The Detroit News | 4/19/18
Seniors from University of Detroit Mercy presented devices like detachable drive units for manual wheelchairs, accessible sink installations, a harness for those who uses walkers and a leg flexure for a veteran with edema.
GM engineers lead robotics mentoring in Southwest Detroit
Detroit Free Press | 4/7/18
Detroit Mercy alum Joaquin Nuno-Whelan's role as chief engineer for General Motors full-size SUVs keeps him plenty busy. But helping Southwest Detroit high school students build robots and learn engineering could be the best vehicle he will make for his employer.
Accidental activist: life changes lead dentist to speak on opioid harms
American Dental Association | 3/26/18
At the time of Sean and his grandmother's deaths, Michael was in his first month of dental school at the University of Detroit Mercy School of Dentistry. He took a week off and returned to school still grieving, but without any time to dwell on the pain. 
Mike Ash Starts Local Company to Attack Hunger
SEEN Magazine | 3/29/18
In 2011, Saint Clair Shores resident Mike Ash started a company, Attack Hunger, to deliver food to at-risk women and children in Detroit. Several years later, the 34-year-old estimates he's delivered tons of food to shelters throughout Metro Detroit.
Alumni News
Grants help Detroit Mercy build boundless futures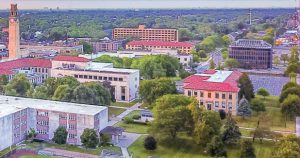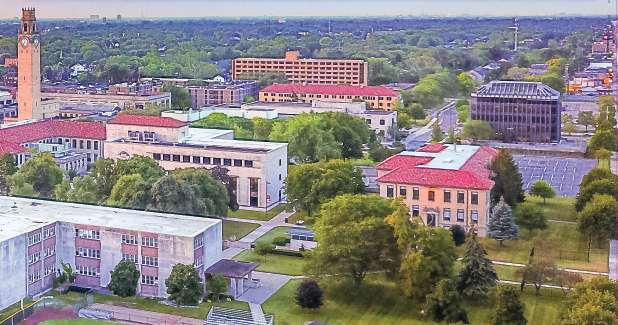 Recent charitable grants totaling more than $473,000 will support scholarships, programs, faculty research and community outreach at Detroit Mercy. The grants are: $80,000 from the Sutaruk Foundation to fund the Alex Sutaruk Scholarship program for Engineering students, which honors the legacy of Alex Sutaruk '51. In 2017, 14 Engineering students …
Look to your mailboxes for Spiritus!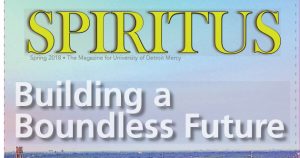 Spiritus, the alumni publication for University of Detroit Mercy, is headed your way. The spring edition of the twice-yearly publication will be in your mailboxes soon, This edition includes lots of great stuff, including an exciting update on our $100-million Campaign for University of Detroit Mercy. We also talk to …